Octopus automates complex deployments and seamlessly integrates with your DevOps tools,
giving you the advantage of being agile and increasing your average number of deployments without a hassle.
Why Octopus Deploy?
Delivering your software quickly and error-free is crucial. A delivery process should not be complex, even if you deploy to different environments.
You deserve reliable and risk-free deployments with rollback capabilities.
Using the same deployment process across all your environments allows you to move your software to the Production environment confidently, as your process has already worked in other environments.
Reliable and risk-free deployments
Deploying software with Octopus Deploy involves packaging your applications and configuring your infrastructure. With those two completed, you define your deployment process by creating a project, adding steps, configuration variables, and creating releases.
When you deploy a release, you execute the deployment process with all the included assets as they existed when the release was created.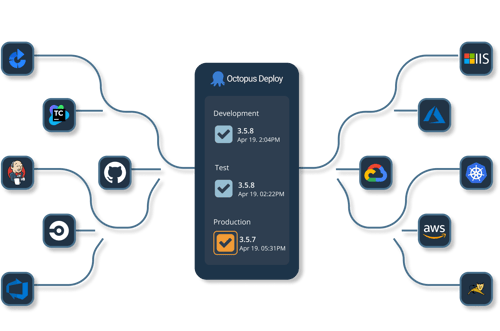 The only release management tool everybody can use
Give your teams one platform for DevOps automation. Use Runbooks to automate routine and emergency operations tasks and free your teams from more crucial work.
Deploy with consistency and speed
If you are looking for multi-tenancy support in a deployment tool, Octopus is the only one with built-in. Deploy to two, ten, or thousands of customers without duplicating the deployment process.


Audit & role-based access control
Full auditing, role-based access control, and single sign-on (SSO) are standard in Octopus. And it offers teams accountability, peace of mind, and trust. Streamline approval and deployment processes further with our service management integrations.
Did you know that over 25,000 companies use Octopus Deploy, including:

Let's have a quick chat to understand your requirements and figure out how we can help you.


Address: 71-75 Shelton Street, Covent Garden, WC2H 9JQ London, UK
Phone: 02038288784
Email: ping@teambion.com